April Cheerleader of the Month
Greyson McGee is the Cheerleader of the month for May. This is Greyson's second year on Spirit of Tyler. Greyson is on the Senior cheer team the "Queen Bees". Greyson was chosen as COTM because she is such a hard worker. Greyson is at every single open gym and at every tumbling class! She has been working so hard on her standing and running back handspring and is SUPER close to both. Greyson's jumps have also improved so much!! Greyson has a wonderful attitude is VERY hard working and is always encouraging her team. Greyson is such an awesome example to everyone. She has shown us that if you work hard you can do anything! One of Greyson's goals this year is to double compete on the Coed team "The Sting". Keep up the good work Greyson we are SOOOOO proud of you!! Congrats!!
Emily Tannery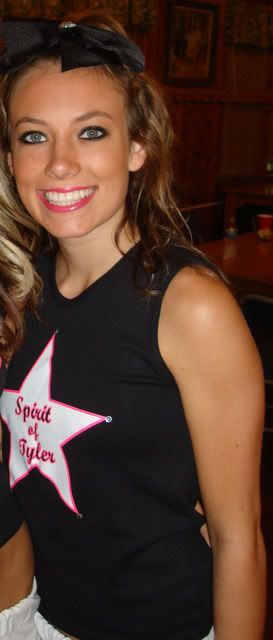 Congrats to Emily Tannery, she is the September Cheerleader of the month!!
Emily has been on Spirit of Tyler for eight years. She is a senior and is on Large Coed and also dances on the Sr. Hip Hop team. Emily attends Robert E. Lee where she is also a varsity cheerleader for her high school. Emily has too many national champion jackets in her closet to even count, but that is not why she was chosen for the C.O.T.M. Emily was chosen as Cheerleader of the Month because of her positive attitude and her wonderful work ethic! She is extremely encouraging to her teammates and is the true example of a team player. Emily always gives every single thing that she has at every minute of every practice!! Emily is a true leader because she leads by example. Emily recently won many awards at Spirit of Tyler's cheerleading camp this summer. Some of those awards include "Mother Hen, "Leadership" and "Heart of Gold". Emily is truly looked up to with adoring eyes by so many of the younger members of the Spirit of Tyler family. Emily is really loved by all!
Emily hopes to attend Stephen F. Austin State University next fall. She plans to major in education. Emily also hopes to cheer on the Lumberjacks on the sidelines. Anyone to have Emily as a part of their team would be hitting the jackpot. We wish you the best of luck and will miss you dearly. Congrats again Emily, you sure do deserve it!